#FreeNjeri has been trending after a video of a traffic police harassing a lady and forcing her to leave the front seat went viral.
The lady's phone was taken and even worse her luggage was dropped on the floor only for two cops to sit in the passenger's seat next to the matatu driver.
Njeri who was a passenger in the same matatu filmed the entire incident while seated at the back.
When the cops saw that, they threatened to arrest her but she was well aware of her rights.
Eventually the police got to her and arrested her with the charges, 'obstruction of the execution of justice.'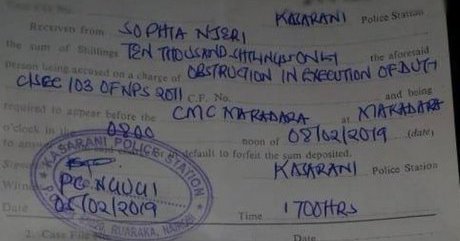 Adelle and Shaffie during their morning conversation were in shock at the turn of events.
Njeri took to Twitter seeking help and Kenyans came through for her using the #FreeNjeri, but clearly it did not work because as Shaffie Weru informs us, she spent the whole day held by cops and was released at 5 pm.
To make matters worse, Njeri had to pay Ksh10,000 bail.
From the video, it was clear that the police were harassing the passager because about 5 cops used force to get her out of the seat which is her right.
Shaffie is saddened by the fact that the chain of corruption is too long and that is why Njeri's case has gone this far yet she innocently took a video of a fellow citizen being harassed.
Adelle Onyango informed Kenyans that it is within the Kenyan law to record a police officer if at all what is happening is wrong and produce it as evidence.
Njeri is today being arraigned in court and Kenyans are  awaiting the judgment.
Also read: