Amber Rose and American Rapper 21 Savage  have been in the public eye since they started dating. It has been a few months of dating and Amber can not get enough of her man.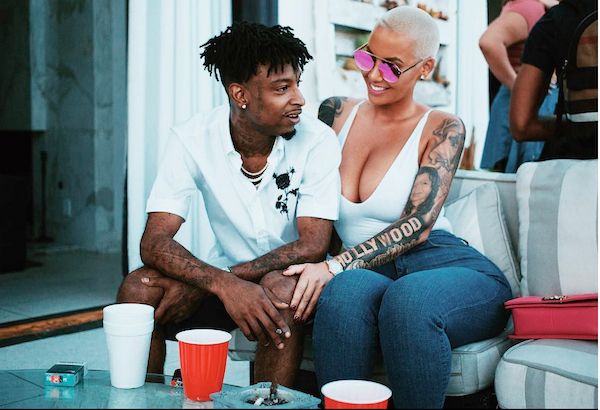 Not forgetting she was in a long time relationship with Wiz Khalifa and has one child with him. But it seems that 21 Savage is cool with Amber's child as sources say.
Recently she took to her social media to shower her man with sweet words and her fans had positive feedback.
This is what Amber wrote:
It's pretty amazing waking up every morning feeling love like this. I've cried endlessly and been hurt a lot in my life, I've been abused, talked to like I wasn't shit, been gaslighted and Slut shamed by men that I once loved and cared about. So I'm so thankful that God brought this amazing person in my life who genuinely has my back and is ready to "pull up" to defend my honor by any mean.
Maybe he's just as broken as me and that's why we're perfect for each other but either way he's not going anywhere and neither am I.
Take a look at the comments below:
princesaoliviaa:Yes babe you go! You deserve it all! I'm so happy for you! I wish you guys the best wishes! Don't ever let anybody say otherwise, keep slaying, y'all cute, keep getting your money girl and stay a boss! @amberrose
aaputraofficial:Ah sweet @c.thesaa
misssaraasiy:This makes me happy
kidonthecouch:I hope they go far and this isn't some bs.
glovestate:Make it last sister …
brandonfield:He must have a huge personality
elijah.trae:Goals
rorouni_tgme:Sincerely happy for you @amberrose . You deserve to be happy!
sebinalevember:Every one deserves to love and to be loved. I'm happy for that you already found the one