Nicki Minaj joined the mass of well-wishers at the announcement of Queen Beyoncé's pregnancy. Beyoncé announced her pregnancy on Instagram on February 1, which also just happened to be the first day of Black History Month.
The world basically exploded in congratulations, especially as the icon announced she was pregnant with twins and would be blessing us two times over.
The group of well-wishers included Rihanna, who reposted Beyoncé's picture on Instagram to congratulate her and Jay Z. I don't really know much about this as the youngest sister, but apparently, older sisters feel, like, ignored and forgotten when younger children are born? Someone who was thinking about this was Nicki, like the caring soul she is. She posted her own Instagram in recognition of Bey's announcement. Instead of directly congratulating Beyoncé, however, Nicki looked at the soon-to-be big sister.

The rapper directly addressed Blue Ivy and said, 'So Dear Blue, you are going to make an AMAZING big sister. Love always, Nicki'. The gorgeous picture Nicki posted shows Blue posed like a pro with some real serious eyebrow game going on.
In truth, Blue Ivy has been a star for about as long as she's been alive. Her parents have been showering her with love from the very start when Beyoncé revealed her pregnancy during a performance of "Love On Top," no less…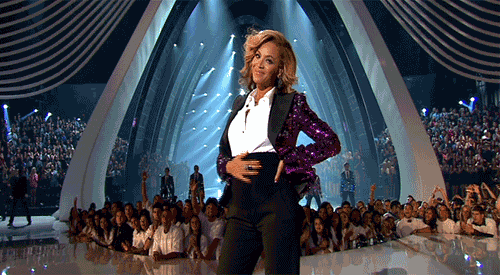 Blue Ivy, we may be excited about your incoming baby siblings, but we still love you… promise!